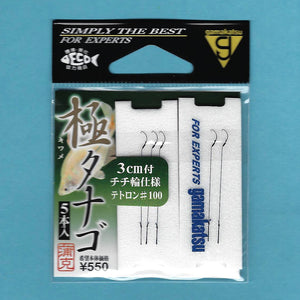 Truly hard core Japanese tanago anglers grind down the points of their hooks with jewelers' tools and microscopes so that the hook points are short enough to fit in the mouth of an extremely small fish.
The Gamakatsu "Ultimate" tanago hook was created to eliminate the need to grind down hooks. The hook point is less than a millimeter long.
The hooks are snelled although they are snelled to thread rather than mono. The snells are about 1.25" long and end in a loop for easier attachment to your line or tippet.
I see these hooks as a specialty item - a niche within a niche. For many fish, even many micros, they are actually a bit too small. If you are just getting started micro fishing, I would suggest the Owner hooks instead. These hooks truly are for the smallest of the small. For even slightly larger fish (certainly the fish that most people catch) the other tanago hooks will hold better. For juveniles, or for the smallest species, or that fish that fits on a penny, these are the hooks to use, though.
They are not cheap at $7.50 per package of 5 hooks, but then again, microscopes and jeweler's tools aren't cheap either. Besides, if a smaller hook is the only thing that stands in the way of catching a species you've spent hours planning and traveling to catch, a $7.50 pack of hooks may be one of the smallest but most important expenditures for the entire trip.