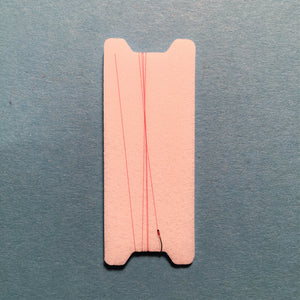 The Owner Foam Line Winders are about 2 1/4" long and about 1" wide. They are convenient for storing snelled tanago hooks after you have taken them out of the original pack and attached a #10 shot and maybe the Jintan marker beads.
The foam winder is the perfect thickness to hook any of the tanago hooks over the end of the winder. The snell is then wrapped around the winder and held tight in one of the slits cut into the corner. If you use a fixed line rod for micro fishing the foam line winder could hold a fully rigged line, including your tanago float.
Several of the line winders will fit in the Tanago Tackle Box with room to spare.
25 winders per package.