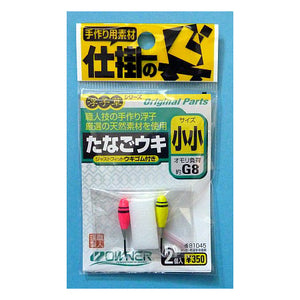 The floats used for tanago fishing in Japan are small and thin, with a relatively small stem. From the top of the float to the bottom of the stem is just over an inch. Thread your line through plastic tube and then insert the stem of the float into the tube, locking the line in place.
If you choose to use one of the extremely light tippets shown on the Micro Fishing Line page, I'd recommend putting the float on a stronger line above the light tippet so if you do happen to hook an unexpectedly large fish or get your hook snagged the light tippet will break and you'll lose only the hook, not your float.
You will need just a tiny bit of weight to get the float to sit properly, with just the tip of the float above water. Just one of the size 10 Dinsmore Micro Shot will work nicely.