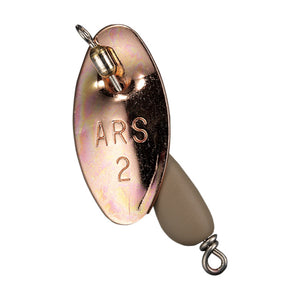 The same international angler who recommend the Smith Niakis spinners also recommended the Smith AR-S spinners. The basic design is similar to the familiar Panther Martin, but the Smith AR-S SH model comes with a built-in swivel and a single hook.  As he told me with the Niakis, these Smith spinners are the real deal, fished them lots on mono, no line twist."
The spinners come with a single barbless size 8 hook.
When using these spinners, be ready for an immediate strike. Smith writes that they are effective on the fall. A start-stop, darting retrieve is also possible with this spinner design.