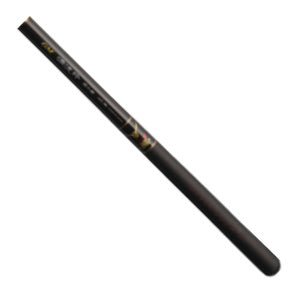 The Suntech Genryuko is Suntech's headwaters rod (genryu = headwaters, ko = child). It makes an excellent rod for fishing heavily weighted nymphs, with a sensitive tip and lots of backbone for good hooksets.
Very early on I realized that traditional tenkara rods were not well suited to fishing deep or fishing heavy nymphs. The force required to straighten and tighten the line when the nymph was 2-3' deep was more than the soft rods could generate. To a large extent, instead of producing a solid hookset, the rod just bent from the resistance of trying to pull the line through the water.
The Genryuko is ideal for tight line Polish nymphing. The rod is stiff enough to keep you in constant contact with your nymph and to set the hook even if you are fishing deep.
Weight with rod cap - 2.7 oz
Weight without cap - 2.3 oz
Length Extended - 11' 9"
Length Collapsed - 15 3/8"
Sections - 12
Tip Diameter - .65mm
Butt Diameter - 20.5mm
Tippet Recommendation - 7X-5X
Pennies - 39